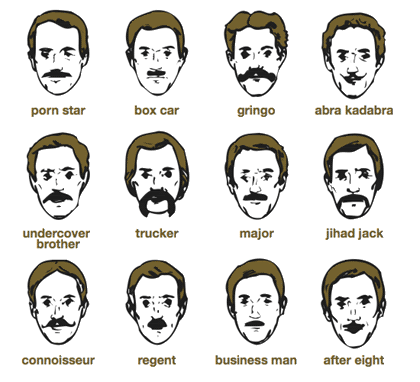 So many people and so many different styles. The mustache is so personal it seems silly to name them but we do. Everything from Fuman-chew to the Ringmaster, there's something unique in each style.
I've always been enamored with the idea of facial hair. In the movies, in sports, even on the news, there's always someone who's decided to give up the razor preferring instead to grow a statement in the form of hair. In most cases, the good guy's mustache is distinctly different than the bad guy. It's rather unrelenting though, even the Duke did it once in a while. There's something about facial hair, a well manicured stache, that says, "hey! I'm tough enough."
Look, it isn't that the mustachioed are all tough and manly. Sometimes the stache says, "hey, I'm a perv!" Those are the ones you want to avoid at all costs. Why a guy would decide to grow a flag on his face of that nature, I'll never know. It just seems in some instances, it's the wool under the nose and above the mouth talking. It takes significant dedication to build yourself a respectable handlebar mustache. Few can actually pull it off. Fewer can take that into the mean streets and survive.
So, what kind of mustaches are there and what do they say about the guy wearing them? Does this hair-lip provide a window into a man's soul? It does seem that the mustache has as many rights in certain industries as the man.
As depicted on TV, and at traffic stops across the nation, a policeman sports a certain look that says, "you don't want to mess with this." It's about survival on the streets in a world of surprises. I have a few friends who've decided to embrace this profession. Each of them sports a mustache and each mustache looks almost the same. I think you'd find this style of mustache very similar to the one Tom Selleck's Thomas Magnum drove around the islands in that sleek Ferrari. I'll admit I was more interested in the car. In any case, many people do not know that most police departments have regulations limiting officers' facial hair to mustaches only. I would suggest this is more in the name of standardizing appearance and possibly to avoid strange soul patches or goatees. Still, this type of mustache seems to be a symbol of following the rules, and not expressing oneself in a way that might offend other citizens.
The Walrus has nothing on some of the more stringent of the tough guys out there. This stache named after a rather tough animal, is found on many in the blue collar world, primarily the service and repair sector. Many of these guys are self-employed. A prideful mustache, the walrus represents the no holds barred caliber of the men that helped to build this country. It also seems to complement the wearer's credibility when quoting prices to housewives for dishwasher repairs.
The chevron mustache seems to lend its wearers the personification of panache. You'll find many in the broadcast news industry showing off this style. It seems there's no better way to conduct journalistic affairs than by letting this tasteful representation of manhood precede a dramatic presentation of the facts!
Salvador Dali had a style about his facial hair that has come to be synonymous with the artist. Also, known as a "spaghetti mustache" the tips can be used as paint brushes – in a pinch.
Although funny-man Charlie Chaplin wore this mustache during Hollywood's silent era, it certainly is better recognized as the choice among dictators. Recent appearances have included ex-Zimbawean ruler Robert Mugabe's upper lip. The most famous - or infamous - would be Mugabe's hero, Adolf Hitler. Incidentally, this mustache is named the toothbrush.
I recently came across a useful tool – the internet is full of the useful and useless. This one is useful, I say. I've seen my kids playing with those paper dolls, where you can place different styles of clothes and fashion on a model to see how they look. Well, Lord Likely has come to the rescue with a more manly version of this old trick. Check it out: Lord Likely's Extra-Ordinary Interactive Mustache-O-Rama.